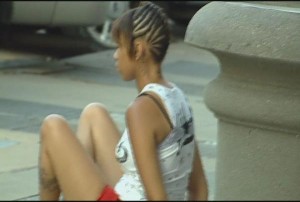 Your Black World reports
A mother has been charged with shooting down two of her children.  Yokeia Smith, a 25-year old mother of three, was also charged with two counts of first-degree assault causing bodily injury and two counts of armed criminal action related to hitting pedestrians. 
Two of Smith's children, a five and four-year old, were found dead in her apartment, and she is the primary suspect in the homicides.
Also, while fleeing the scene of the crime, Smith hit a man and his 3-year old son as she was driving. 
"They were conscious and breathing," a witness said. "The kid had a goose egg on his head, and the dad said he had hip and leg pain."
When police arrived, Smith was crouched between two vans holding a shotgun.  That's when she was taken into custody.  The two children who were killed were four-year old Yokela Smith and 5-year old Levada Brown. 
"I don't know why the babies are dead," said Smith's cousin, Virginia Brown.
The family did say that Smith was being treated for mental illness.